The Fullerton Pathfinder and Adventurer Club is a place where children, both boys and girls (ages 4 through high school,) are taught in a safe and fun way how to "be a servant to God and a friend to man."
Some of the things the club does include: club meetings, learning survival and other useful skills, earning badges, community service, camporees, field trips, learning about Jesus' love for them and many more things that help children to grow to be strong, confident and helpful members of the community. (Continued below)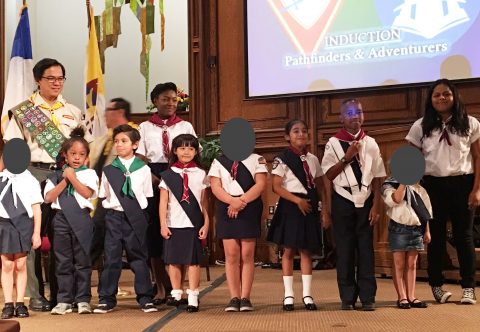 (Continued from above) The Pathfinder and Adventurer Club at Fullerton SDA Church welcome any children wanting to learn about God and how to help others. Consider contacting the Church Office (Click Here) for more information or if you have and/or know of any children that would like to join the club.
Also if you would like to help out, why not donate your personal time or a monetary gift to help "Train children in the way they should go; when they grow old, they won't depart from it." Proverbs 22:6 CEB
---
Who are Pathfinders? (Click for more info; links to external site)
Pathfinders are a worldwide organization of young people sponsored by the Seventh-day Adventist Church (official link; links to external site), though young people of any religious persuasion, or none at all, are welcome and encouraged to join the organization.

Who are Adventurers? (Click for more info; links to external site)
Adventurers are a Seventh-day Adventist Church-sponsored ministry that serves an intercultural community of children in grades 1-4 and their parents and care-givers through a holistic ministry. All are welcome and encouraged to join regardless of religious persuasion.